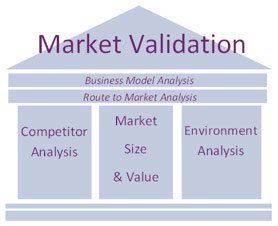 As a 'full-service' market research agency we offer expertise in all of the tried-and-tested research methods that you would expect – surveys, focus groups, depth interviews, etc. – from design and fieldwork delivery through to analysis, interpretation and reporting / action-planning.
One of our core areas of expertise is in the area of feasibility studies. We provide strong, research-based market entry strategies for new and growing businesses.
We use our strong background in research, consulting and mentoring to help clients validate a market opportunity, making the most of the opportunity and avoiding unknown problems and pitfalls.
Uniquely, we utilise market intelligence to its fullest, matching it with a deep understanding of our client's own business, to develop a sound and actionable market entry strategy, whether this be to new areas of business or to new, geographic export markets.