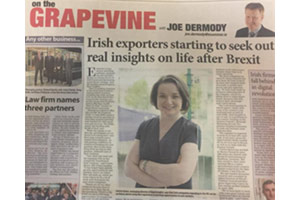 We've just launched a bespoke research and consultancy service to prepare businesses for Brexit.  Carrying out market analysis is integral for companies to navigate Brexit.
The latest quarterly business monitor from cross-border business development agency InterTrade Ireland reveals that 95% of companies still do not have a formal plan on how to deal with Brexit.
Clients of Enterprise Ireland are being urged to take up the Government agency's Be Prepared Grant. This offers up to €5,000 in support for SMEs who would benefit from research and an independent unbiased view of their business from a research specialist.
Speaking on the need to be Brexit-ready, MD of Real Insights, Colette Quinn stated: "We are facing into uncertain times and Irish companies need to have plans in place to be fully equipped to meet both the challenges and opportunities that will arise from Brexit. Businesses should be aware of the invaluable resources available to them, especially those companies looking to diversify into new international markets. This will allow them to make better informed business decisions based on the right assumptions to drive growth and competitive advantage."
"EI's recently launched Be Prepared Grant allows Irish companies, to engage with market research specialists such as ourselves, to help investigate the feasibility of entering into new markets.
"We show companies the value for doing research and give them the tools to develop their own research skills internally to predict next moves and spot opportunities. We help them make intelligence gathering part of the company culture enabling them to make smart, timely decisions that will work to their advantage."
To find out more call us on 021-437 4240 or drop us an email to: info@real-insights.com We'd be only delighted to help you navigate Brexit and look at other opportunities for your business to grow and scale!